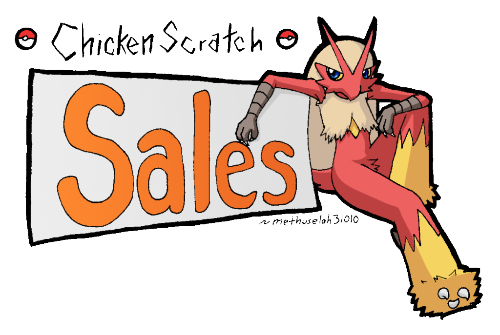 Welcome to ChickenScratch, Non-flat Pokemon Sales Edition!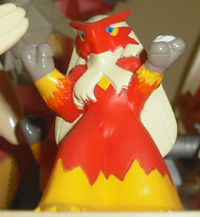 I'll be your guide today! Well, size comparison, mostly. But if you have any questions, or want any additional pictures, let me know!
Rules and Info
*Sales Permission for pkmncollectors granted by dakajojo on 22.May.2011.
*I accept Paypal, or concealed cash at your own risk.
*I ship from IL, USA, and will ship internationally.
*Prices are in USD, and do not include shipping.
*Shipping for non-flats within the US starts at $3.50; out of the US STARTS at $14.00
*Commitments get priority over quotes.
*Holds are okay; I can hold for as long as you need, within reason, as long as you're committed to the sale.
*Haggling is welcomed!
*As is trading, and my wants list is
here
.
*I have chinchillas, and while they aren't usually near my stuff, fur (and chilla dust) travels.
*Send payment as 'Goods'; DO NOT send as 'Gift'!
*Once the package leaves my hands, I am not responsible for it.
*I have the right to refuse sale to anyone I'm not comfortable with, and abide by pkmncollectors' rules.
*My feedback is
here
! Leave yours too, and I'll leave you some!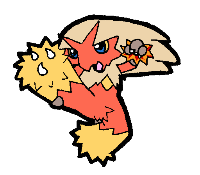 Note! Search (CTRL+F) "NEW" to find recently added items!
Last updated: 09 Feb 2018
*Eevee/Sylveon/Pikachu blanket- $35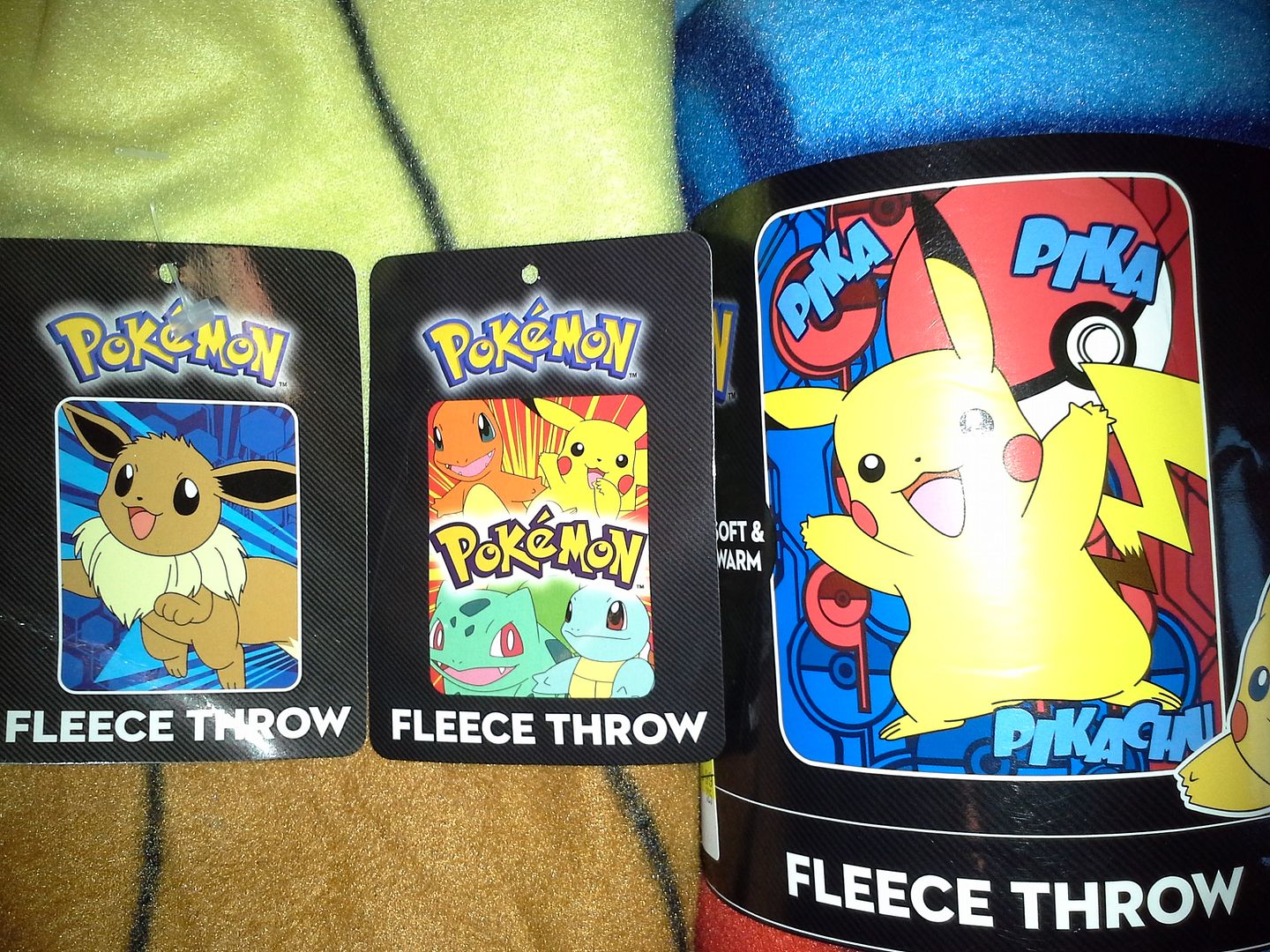 *Custom fleece blanket- $35 each
Has a Pokemon panel fleece top, and a Pokemon print fleece backing.
Available: Eevee with circles back; Starters with black back; Pikachu with red back
(Also have a second Starters with black back with some slightly faded spots on Squirtle for $30, as well as a Starters with red back where Bulbasaur has a large faded spot for $25)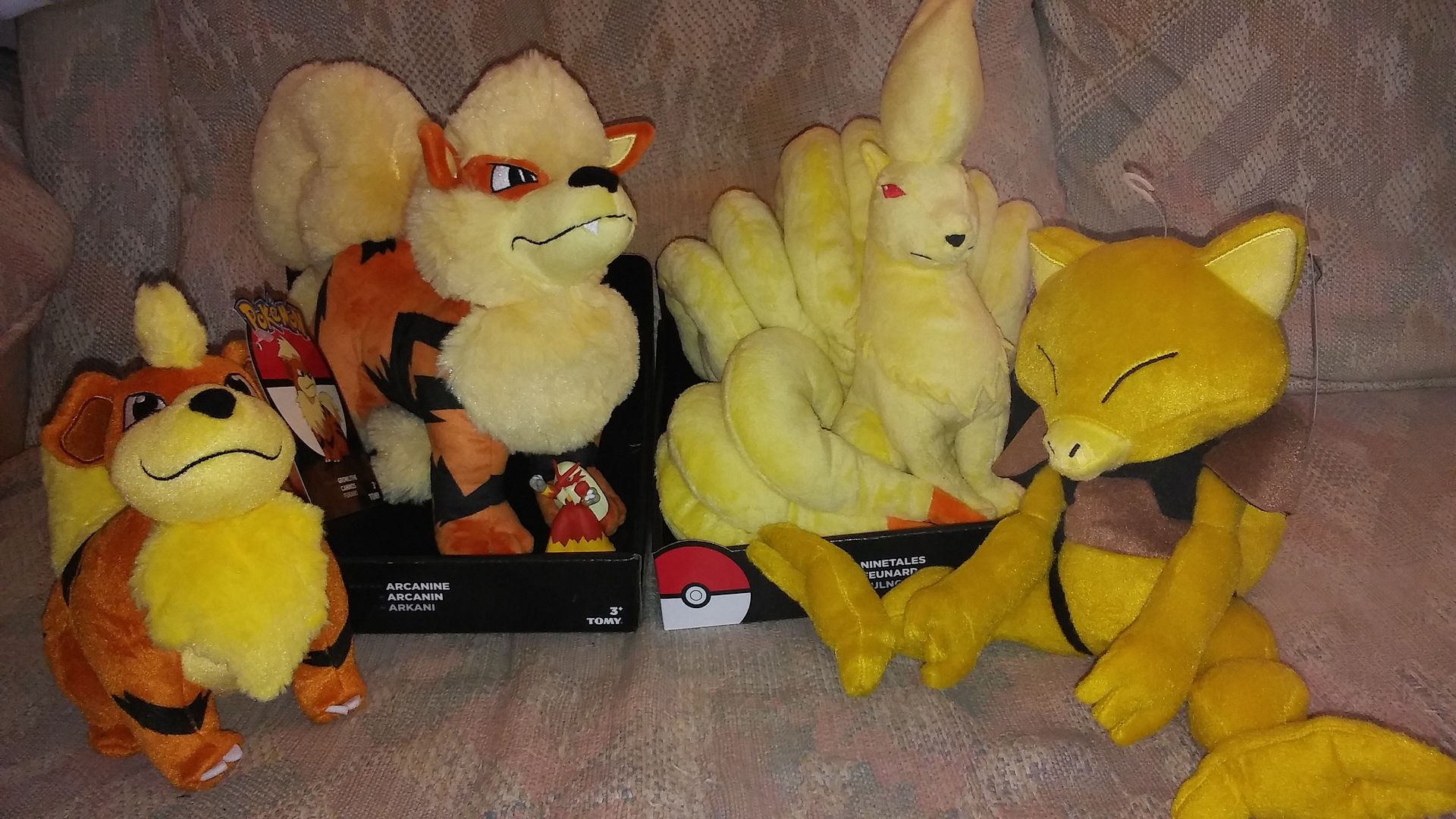 ~NEW~
MWT Tomy Plush
*Growlithe- $20
*Abra- $20
*Arcanine- $30
*Ninetales- $30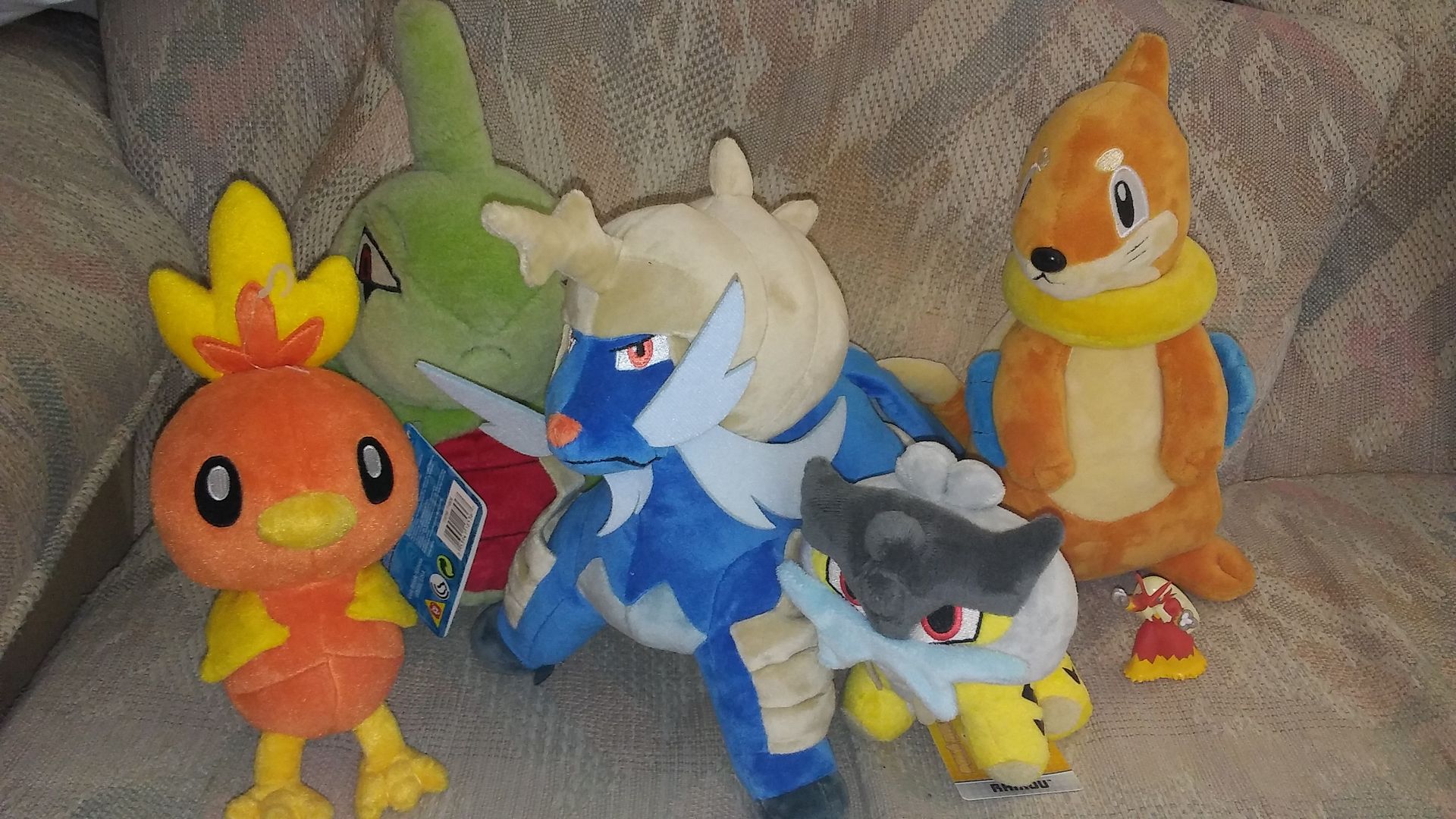 *MWT Tomy Torchic plush- $10
*McDonalds Larvitar plush- $25
*MWT Japanese Pokecen Samurott- $80
*MWT Kiosk Raikou Pokedoll- $25
*TTO Tomy Buizel plush- $100 (serious inquiries only; not desperate to sell)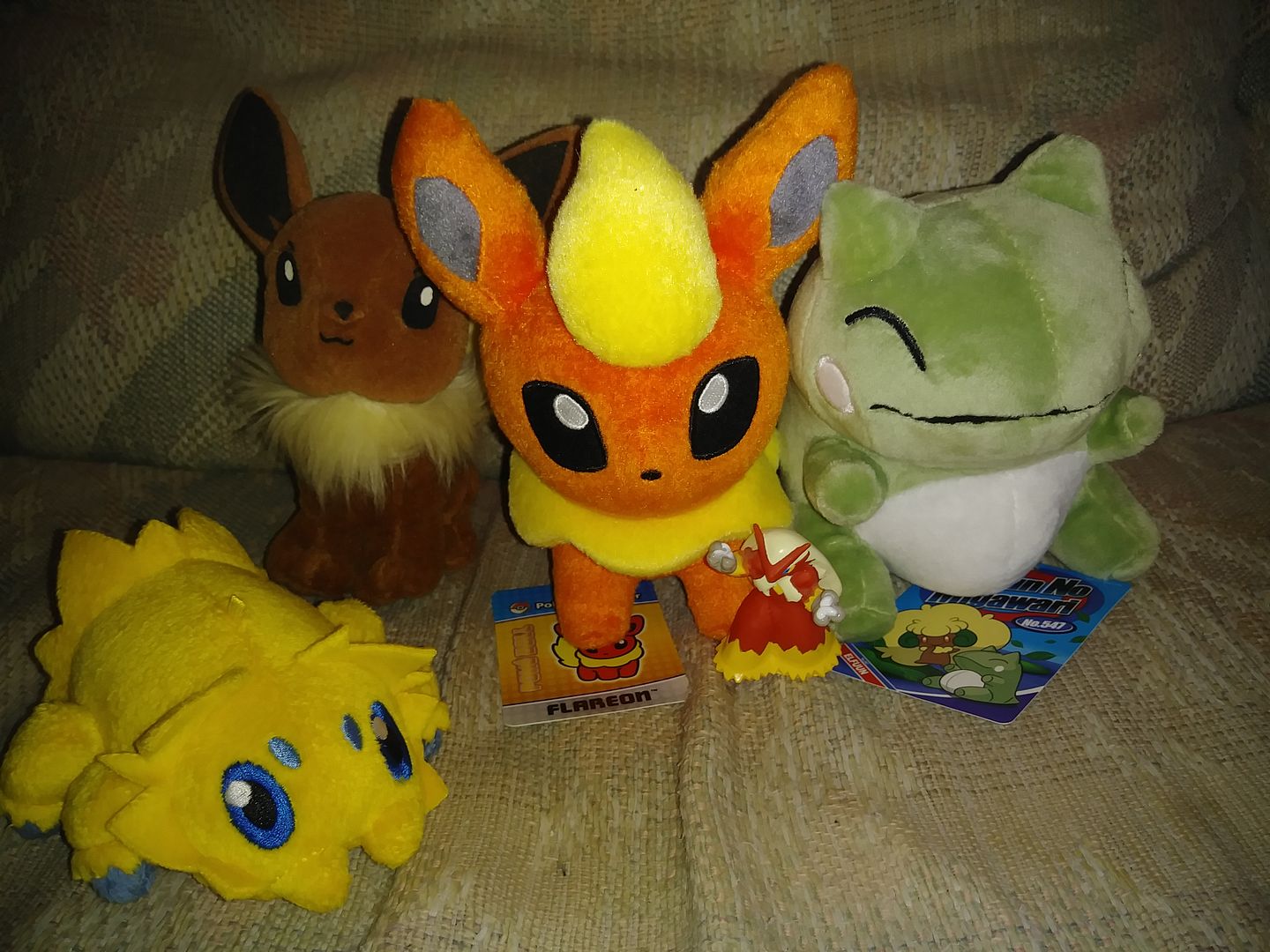 *Loved Hasbro Eevee- $10
*MWT US Flareon Pokedoll- $25
*MWT Substitute plush- $40
*Joltic MPC (no ballchain)- $10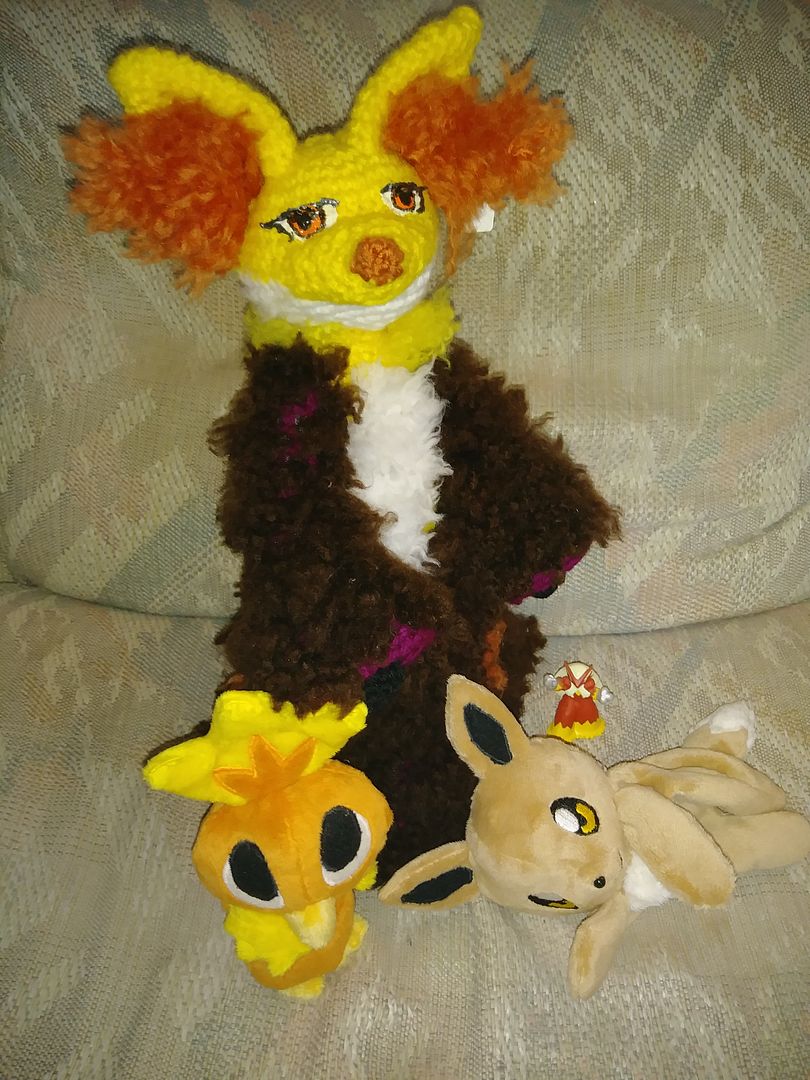 *Custom amigurumi Delphox (unknown artist)- $50
*Custom minky Torchic plush- $30
*Custom minky Eevee beanie (made by me, ears are a little uneven)- $20
*MWT Jakks Lugia- $40
*MWT Taffeta Raichu- $20
*MWT Banpresto Pikachu- $10
*MWT Toy Factory Charmander- $5
*MWT Toy Factory Squirtle- $5
*MWT KFC Vulpix- $15
*Throw Ball Vulpix (with ball)- $25
*Very loved KFC Vulpix in need of a bath- $3
*Tagged KFC Seel- $5
*Nebukuro Charizard, Eevee,
Ekans
Pikachu mascots- $15 each
*Tagless, slightly loved Hasbro Treecko- $5
*Hasbro Squirtle, Mewtwo (tagless)- $5 each
*Very loved Blissey- $3
*Lying Banpresto Piplup (has a spot on his belly)- $5
*Small Banpresto Chimchar- $3
*Tushtag-only Jakks Tentacool- $5
*Oshawott backpack plush- $20 each (Smaller one sold)
*Samurott Banpresto plush- $10
*Dewott Jakks plush- $10
*Bootie Haxorus plush- $10
*PokeCen Axew plush- $10*Banpresto Rayquaza plush- $20
*MPC Fraxure and
Reuniclus
plush- $12 each
*Banpresto Gizamimi Pichu plush- $20
*Tomy Skymin plush MWT- $25
*Jakks Pidove and Starly plush- $3 each
*Big tagged PlayByPlay Pikachu- $5
*Talking Pikachu(No tags, possible bootie)- $5
*Smaller tagged PlayByPlay Pikachu- $4
*Play by Play Blastoise- $5
*Jakks Pikachu (not sure if legit, and has a dirty spot on his face)- $1
*Jakks Munna (x1)- $2 each
*Jakks Chatot- $3
*MIP KFC Seel (x3)- $10 each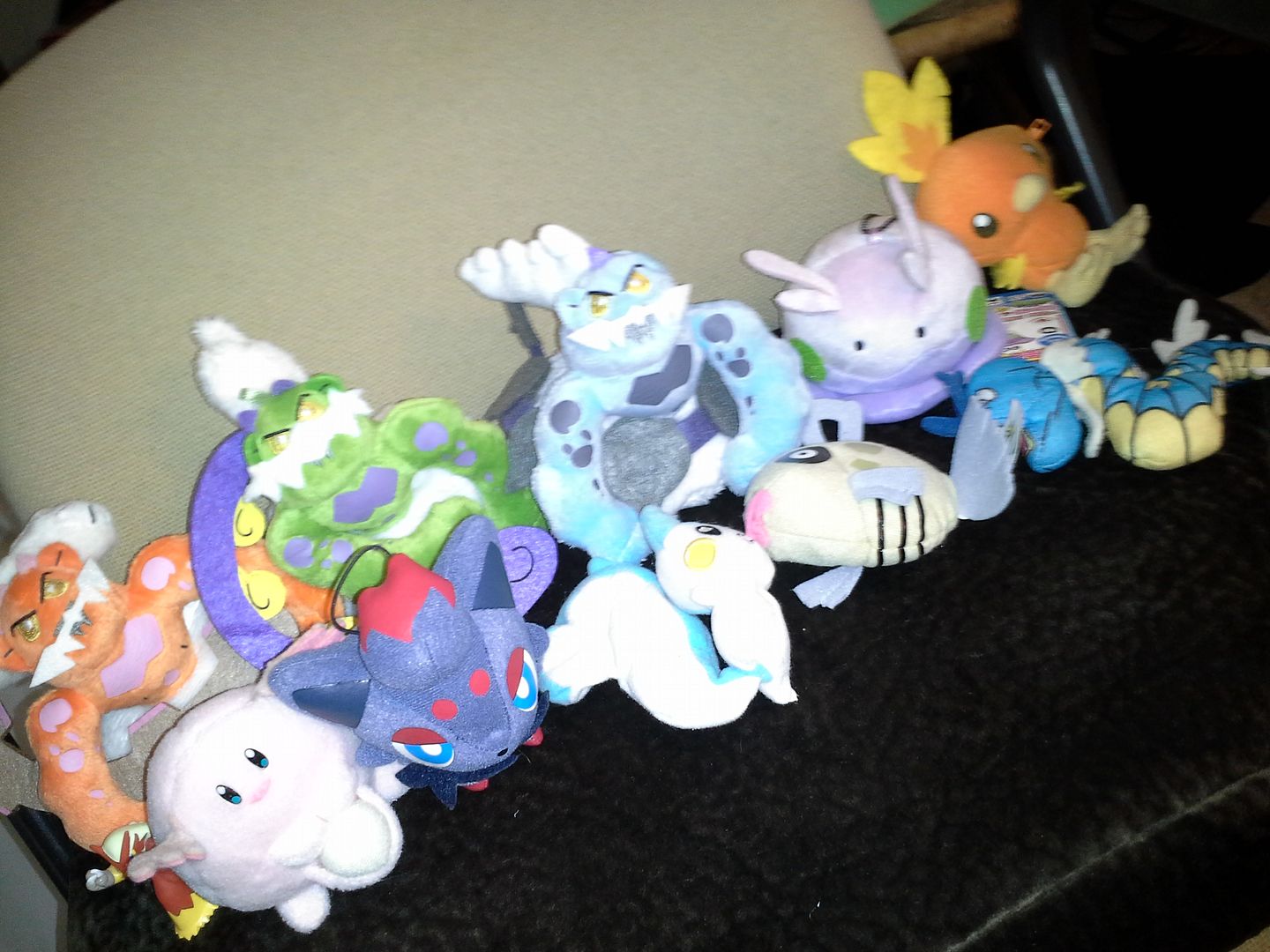 *Factory reject Kami Trio MPCs (Tornadus has custom mustache and hair as he was bald)- $10 for the set
*Goomy MPC- $10
*Torchic reversible Pokeball plush(has a nicked feather and missing pokeball button)- $3
*Chansey Friends plush(has a twisted ear)- $3
*Tiny Zorua- $1
*Pachirisu Throw Ball plush- $6
*Feebas Throw Ball plush- $10*Gyarados BK plush- $6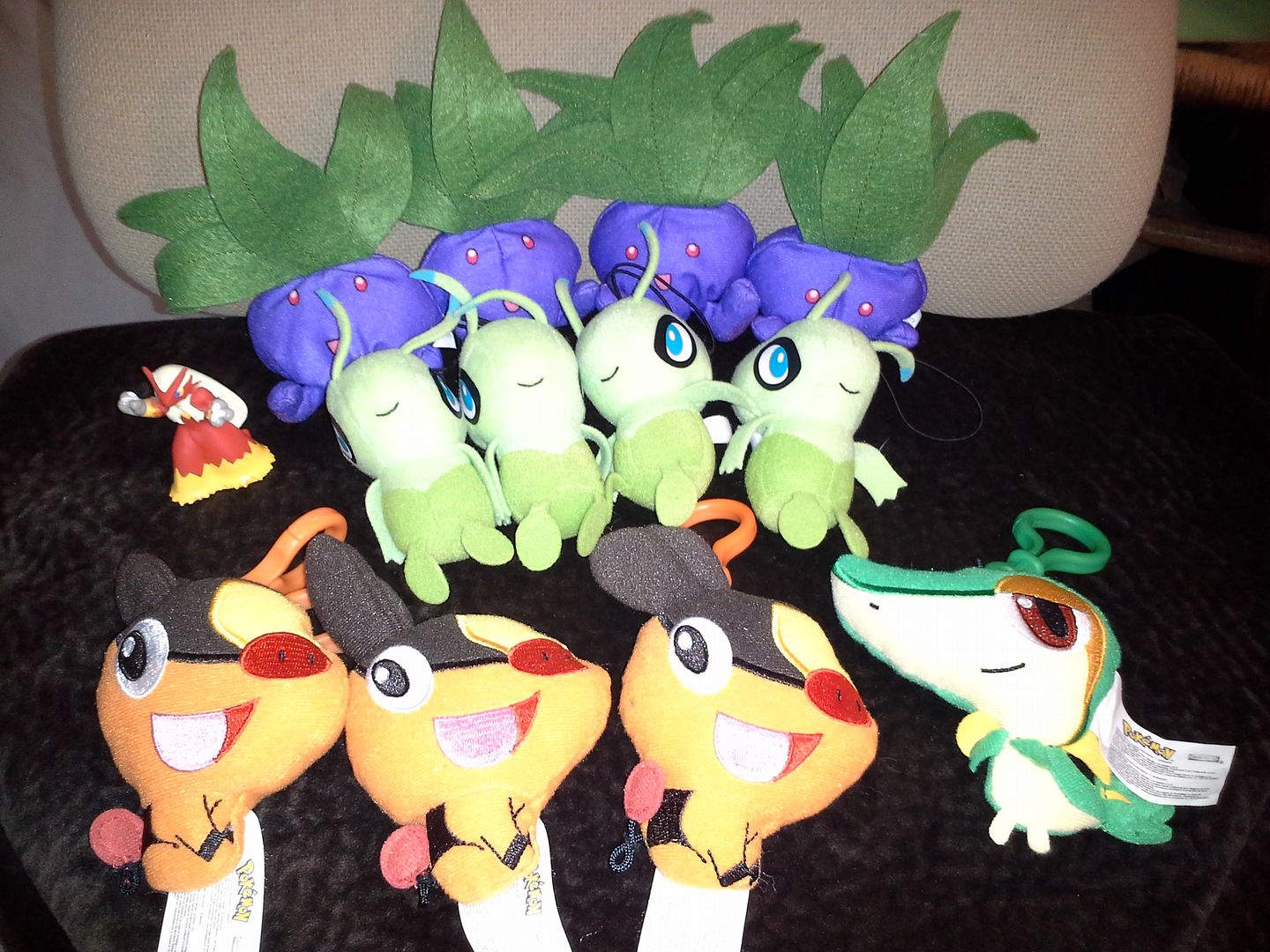 *Oddish BK plush(x4)- $1 each
*Tiny Celebi strap(x4)- $1 each
*Jakks shakey Tepig keychain(x3)- $2 each
*Jakks shakey Snivy keychain- $3
*12-Inch Bootleg Plush- $10 each
Absol, Shiny Charizard, Goodra, Salamence, Flareon, Wailord,
Politoed
*Custom Zorua jacket- $15
More pictures
here.
Worn and washed a lot, so there's a lot of pilling on it. It was my first custom jacket, so while it has held up nicely over the years, it's early work. Head floof and tail are stuffed, and tail bobs cutely. About a Womens' M, but ask for exact measurements as I didn't use an actual pattern. Closes with velcro squares, but will add a zipper instead for an additional $5.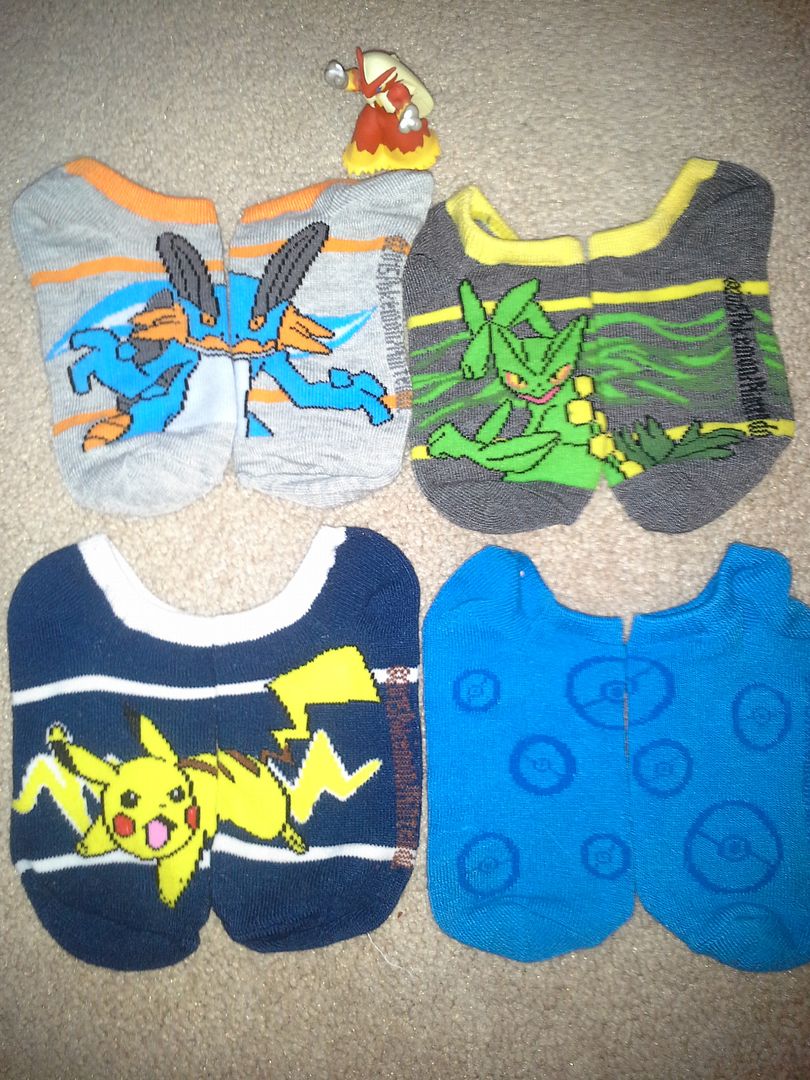 Socks (Small, child size)
*
Swampert,
Sceptile- $3 a pair
*Pikachu- $2
*Pokeball- $1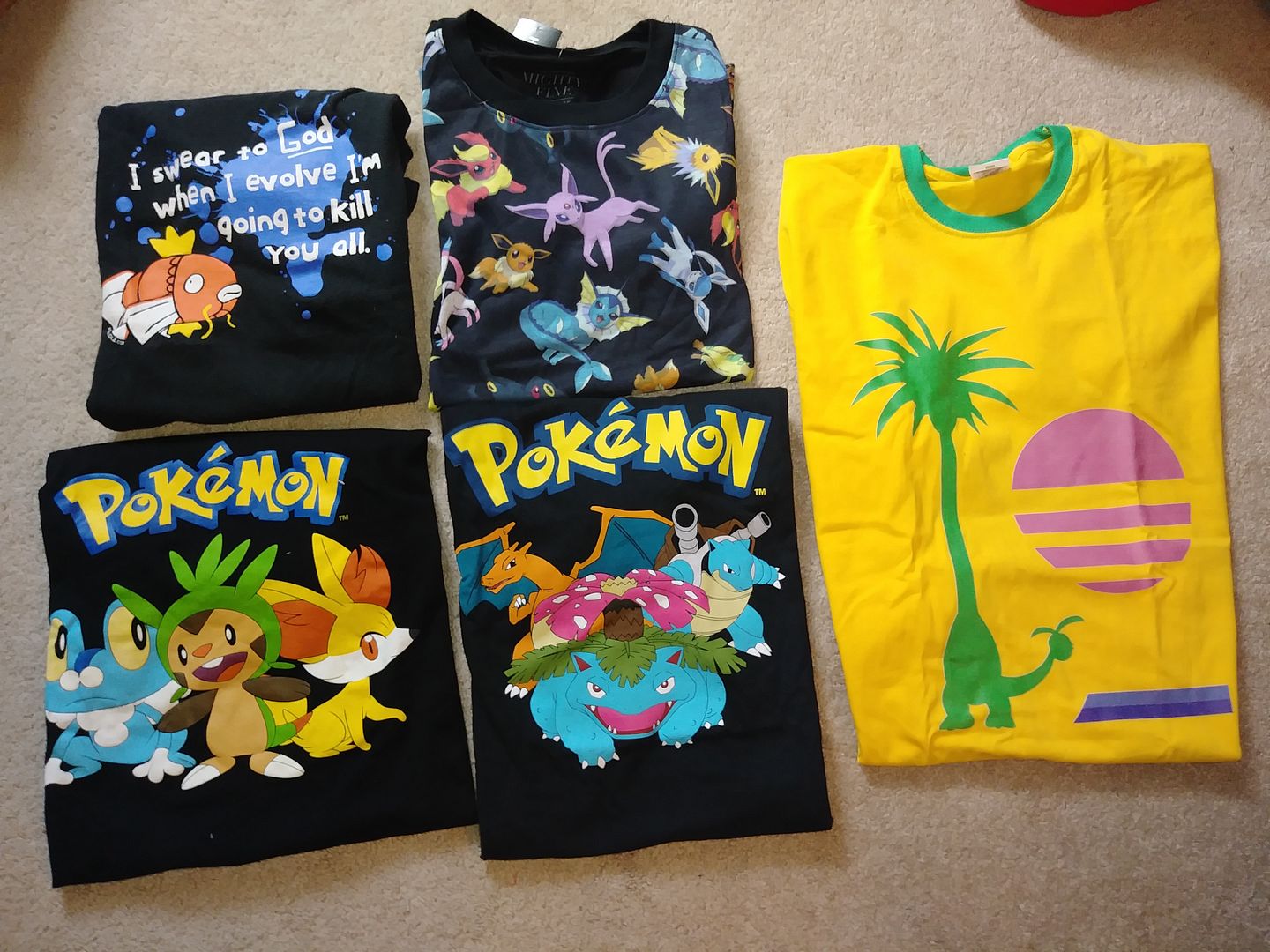 *Magikarp shirt (Men's S)- $8
*Eeveelution shirt (somewhat sheer) (Women's S)- $20
*Kalos starters shirt (Men's L)- $5
*Kanto Starters shirt (Men's S)- $15
*Custom Alolan Exeggutor SuMo shirt (Men's L, but fits more like an M)- $15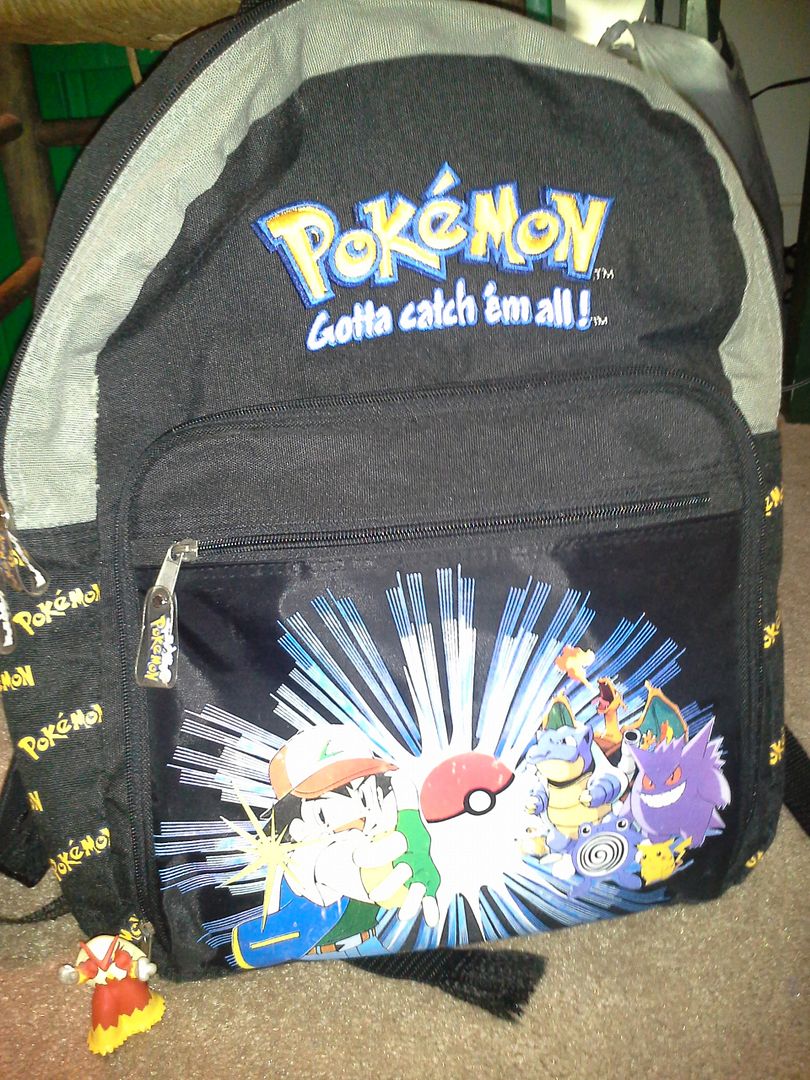 *Backpack- $10
(Some scuffs. Has a double zipper, though one zipper pull doesn't work. Still opens and closes fine.)
*MIP JAKKS Scraggy PopNBattle- $2
*MIP Hasbro Metagross/Corphish- $15
(Can open if desired for cheaper shipping)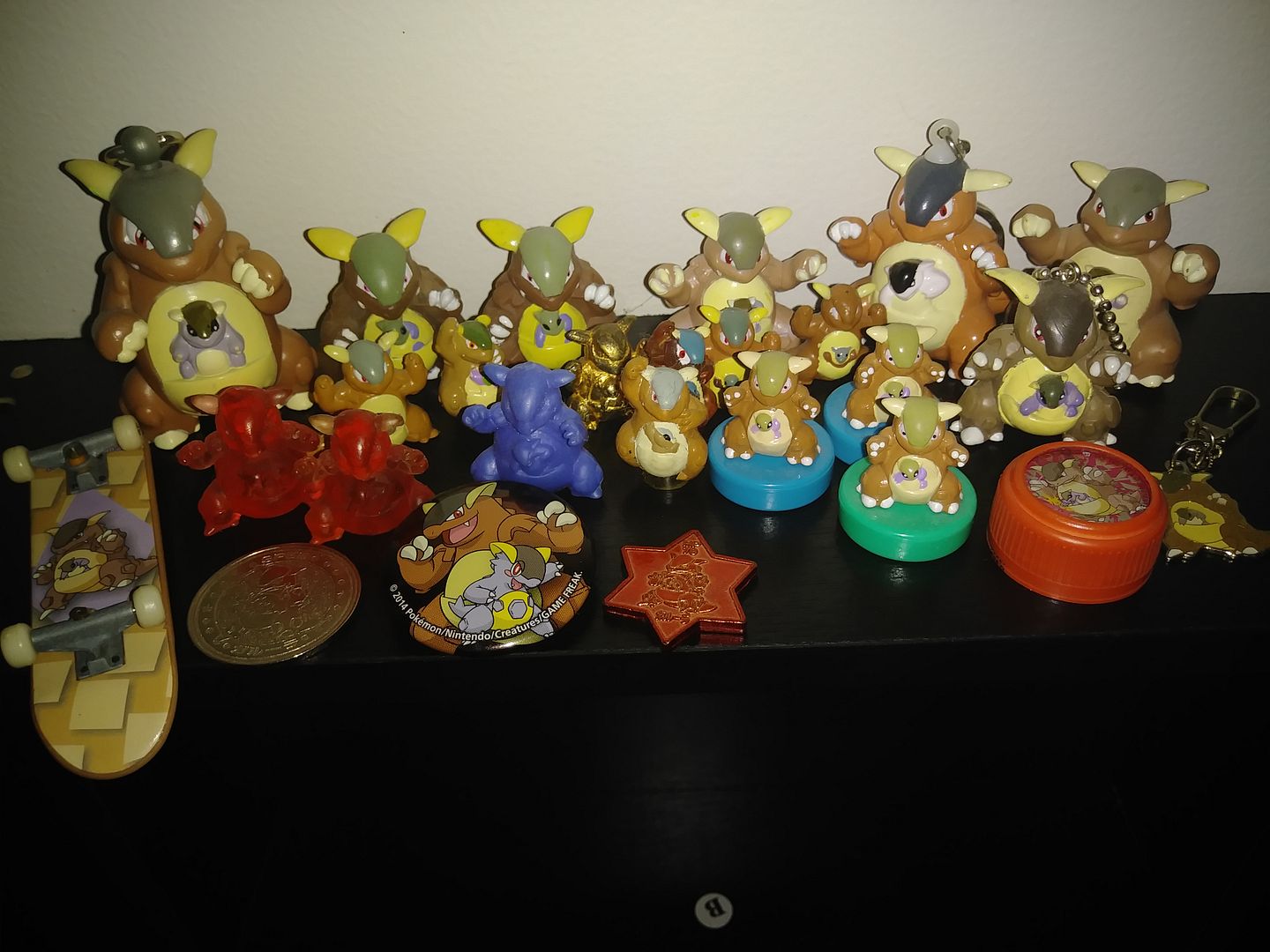 *Kangaskahn collection- $30
*Blaziken Tomy Pose figure (a bit scuffed)- $10
*Blaziken clear Tomy (scratched and missing head feathers)- $3
*Baseless Blaziken footprint figure- $2
*Torchic bobblehead- $3
*Custom shiny painted Torchics- $1 for the pair
*Peru cereal Torchic figure, custom Torchic- $1 each
*Bootie Combusken and Torchics- free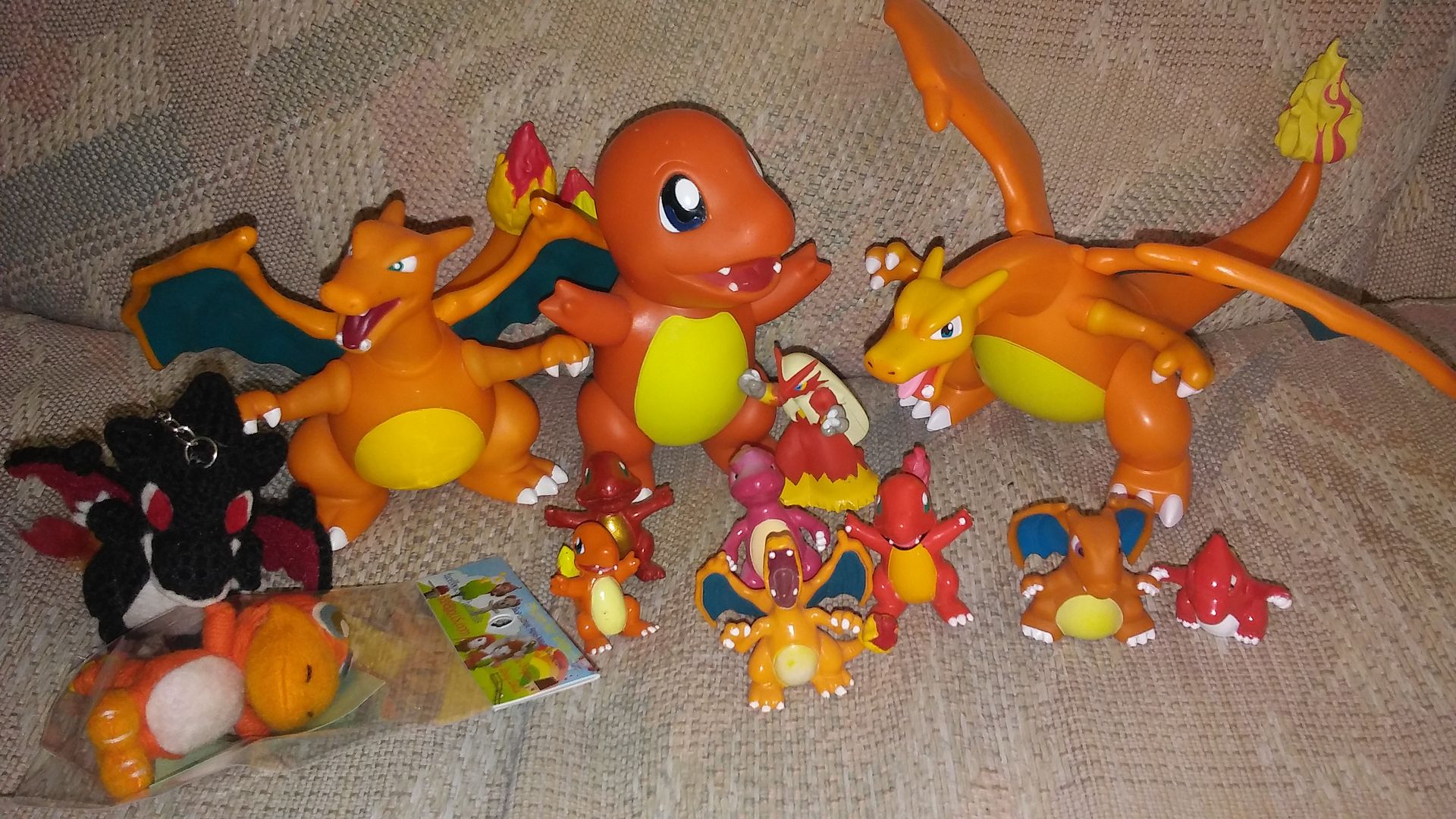 *Large poseable Charizard Tomy (some scuffs)- $10*Large poseable Charmander Tomy (some scuffs)- $8*Electronic Charizard (sunfaded)- $5
*Custom shiny Mega Charizard Y amigurumi keychain- $15
*Charmander string doll- $5
*Keychain Charmander figure- $2
*Poptarts Charmander- $3
*Charmander, Charmeleon, Charizard Tomy set- $15
*VTrainer Charizard- $5
*Charmeleon keychain figure- $3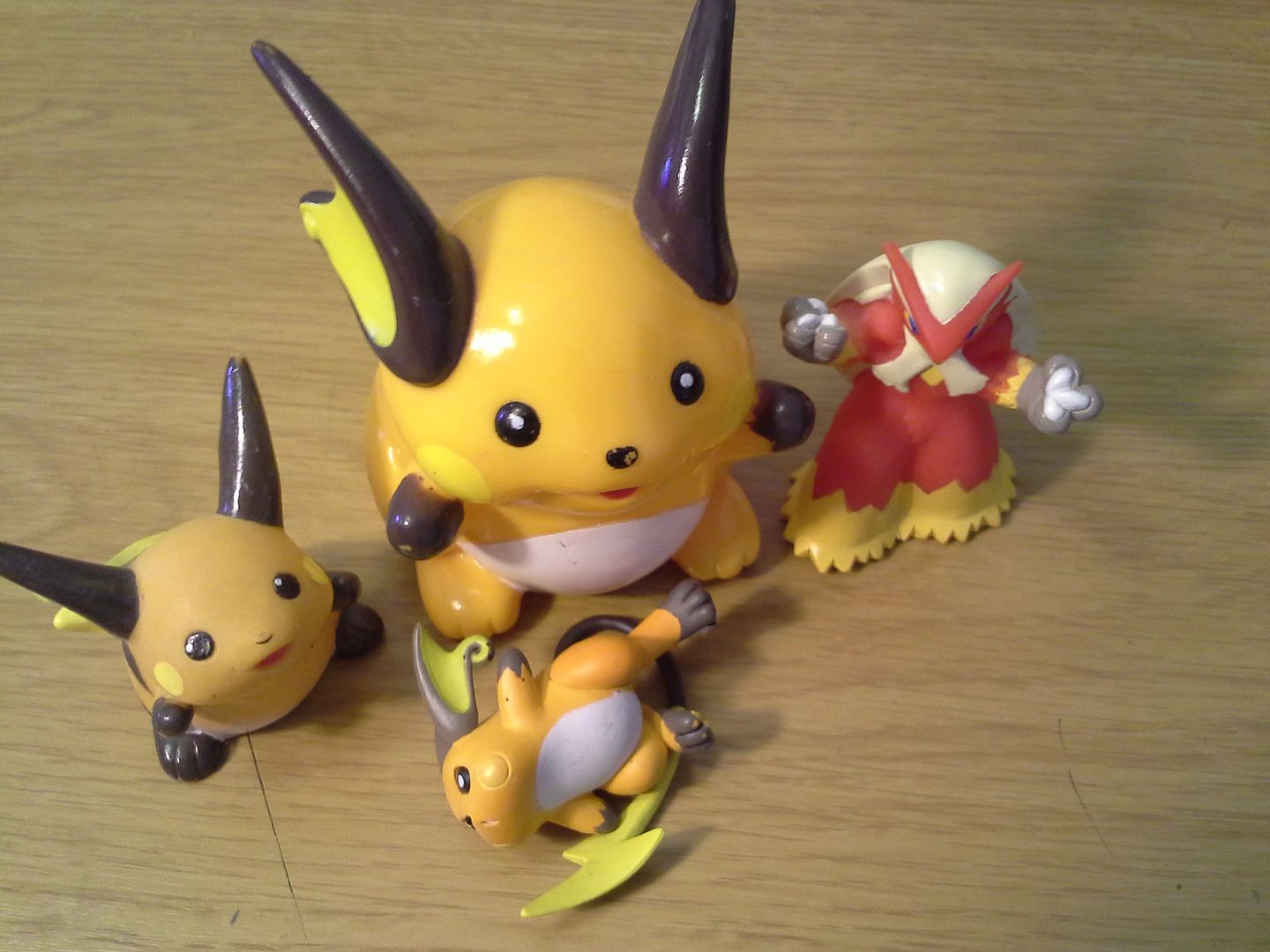 *Raichu kid figure (a bit scuffed/some paint loss)- $2
*Raichu coin bank(missing bottom, scuffed and paint loss)- $3
*Broken Raichu TFG figure (broken off the base, Rai himself is okay)- $2
Squirtles
*Bottlin figure, Candy grabber- $5 each*Big keychain, light blue figure, Tomy, stamper- $2 each
*Small keychain,
stamp,
tic-tac-toe keychain, dice,
bootie figure, lollipop stick figure,
screen cleaner,
charm, Wartortle coin- $1 each
Blastoises
*Tomy penciltoppers(x3),
Attack Kid,
Kid, cannons upward Kid,
roller figure
- $2 each
*Eraser, tiny figure, keychainless figure, keychain,
screen cleaner,
3 booties- $1 each
*
Pin,
downward-looking figure- $2 each
*Suction cup figure- $8
*Gyarados Tomy(x3) $5 each
*Magikarp Kid, Magikarp metallic plastic figure, Magikarp minimodel- $2 each
*Magikarp metal figure, Gyarados swing charm, Magikarp/Gyarados keychain- $4 each
*Lapras BK card- $1
*Lapras squirter, Lapras Tomy- $5 each
*Lapras FCS,
Lapras pencil topper,
Lapras clip, Lapras chopstick rest,
Lapras/Pikachu keychain,
Lapras Dogtag- $3 each
*Lapras stamp- $1
*Swampert Kid, Swampert Attack Kid- $2 each
*
Swampert DX Kid, Tomy, Zukan piece- $3 each
*Marshtomp Kid(x2), Hasbro Marshtomp, small Marshtomp- $1 each
*Empoleon Lying Kid, Empoleon Kid, Empoleon figure, Empoleon Zukan piece(x2),
Empoleon stylus
- $2 each
*Bootie Prinplup- free
*Chesnaught, Delphox line zukans- $8 each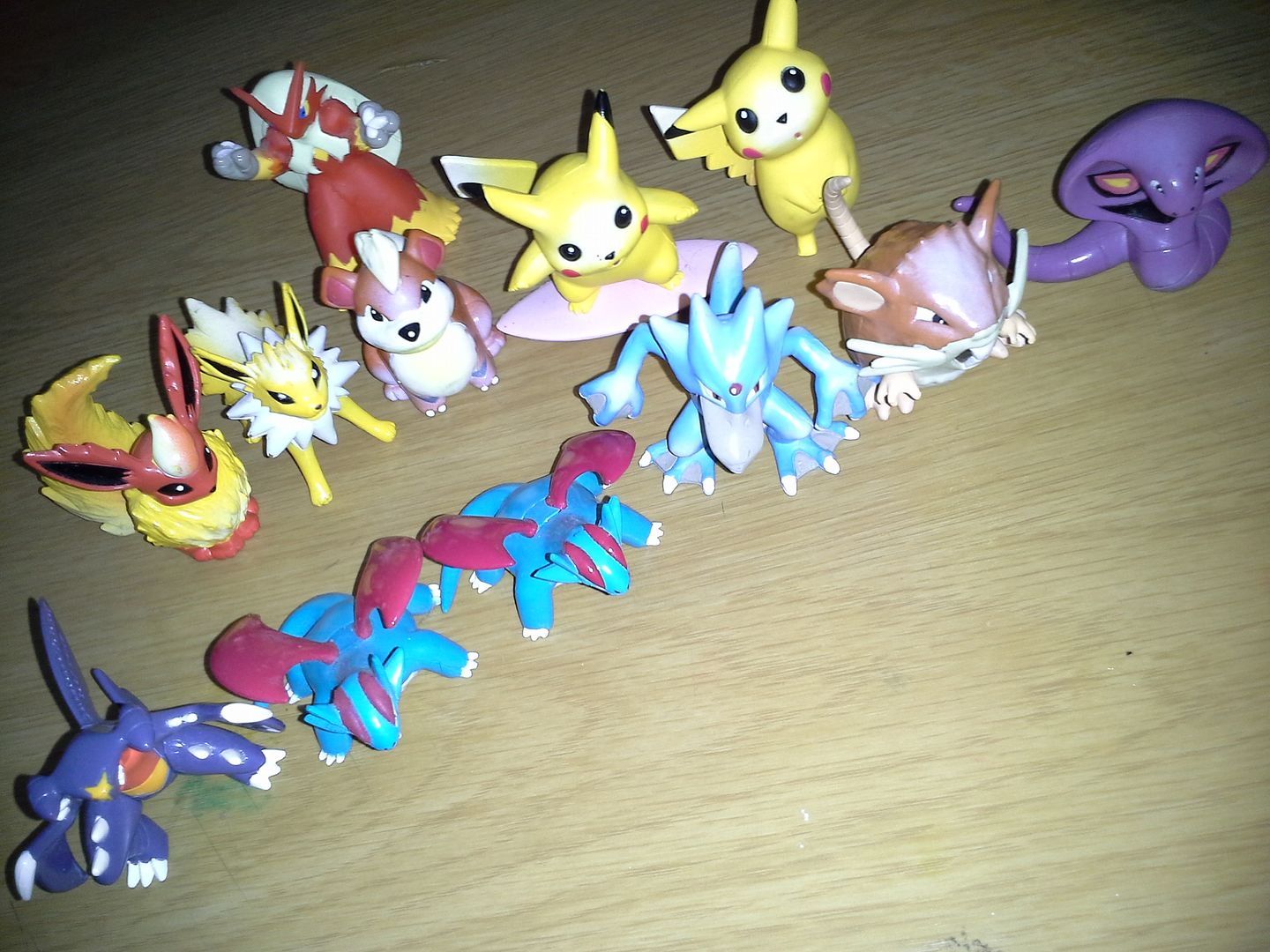 Tomy Figures
(Back row has some scuffs)
*
Flareon,
Jolteon, Surfing Pikachu,
Garchomp,
Salamence
(x2),
Golduck- $5 each
*Growlithe, Pikachu,
Raticate,
Arbok(not sure if he's a Tomy)- $3 each
Chocoegg Figures
*Pikachu- $3
*Zygarde Core- $4
*Latios- $5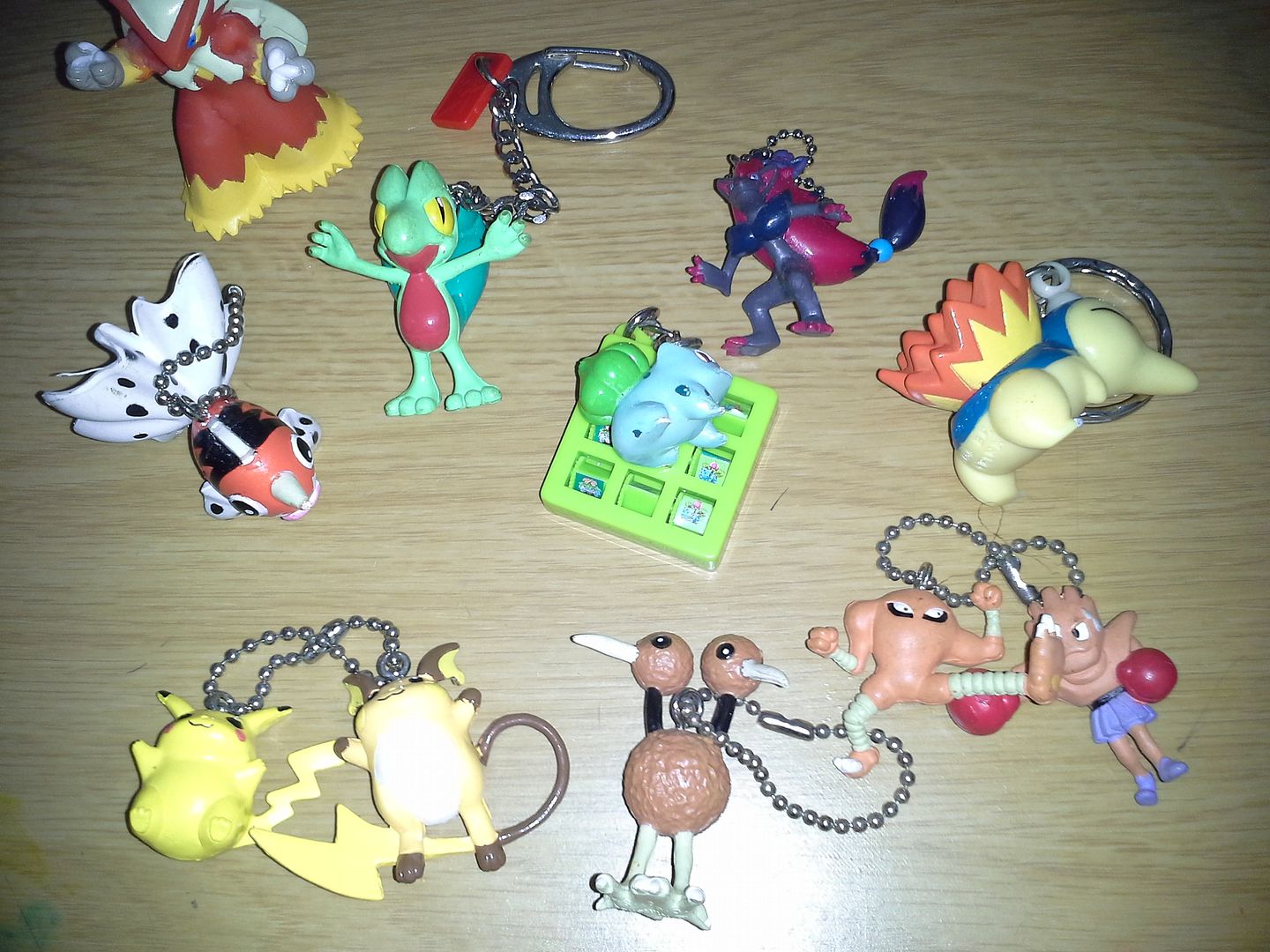 Keychains
*
Seaking,
Bulbasaur,
Zoroark/Zorua, Doduo, Hitmonlee/Hitmonchan- $1 each
*Treecko,
Cyndaquil,
Pikachu/Raichu- $3 each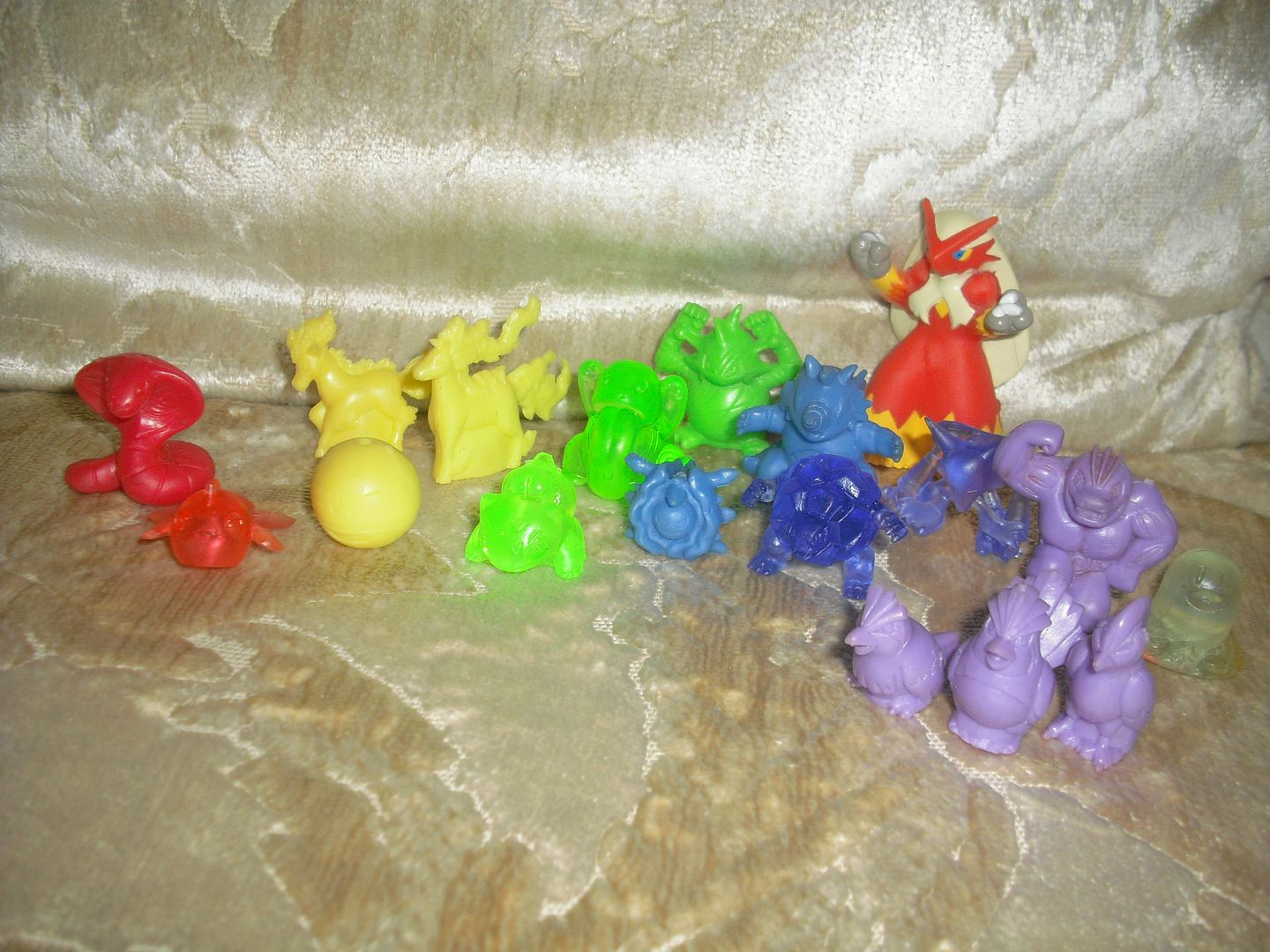 *Minimodels- $1 each
SOLD: Arbok, Bulbasaur, Cloyster, Alakazam, Pidgey, Pidgeotto, Pidgeot
*Full-Color Stadium figures- $2 each
Charmeleon,
Wartortle,
Ivysaur,
clear Raichu,
Scyther,
Charizard
*Mega Charizard Y Tomy VS figure with flattened box- $6
*Kyurem (x2), Landorus Clipping Figures with their card- $2 each
*Entei pencil topper(scuffed a bit)- $1
*Mewtwo, Charmander, Eevee keychain figures missing keychains- $2 each
*Very scuffed Raikou- free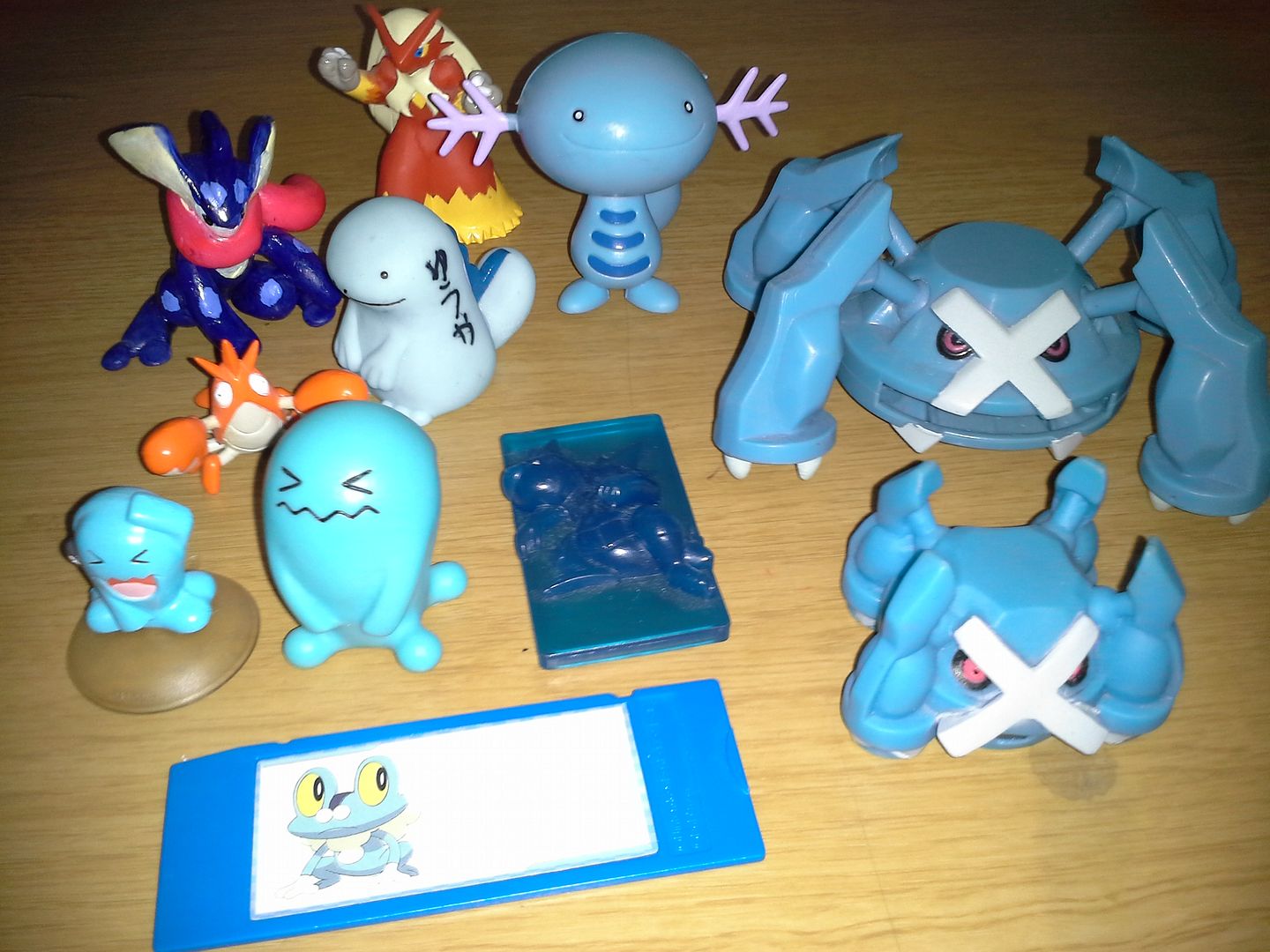 *Custom Greninja, Quagsire Kid,
Jakks Wooper,
Corphish, Wobbuffet Kid,
Feraligatr thing,
Froakie thing- $1 each
*Wobbuffet suction cup, Metagross kid- $3 each
*Large Metagross(missing projectile)- $5
*Small Mewtwo figure- $5
*Zekrom and
Reshiram
Kids- $2 each
*Rayquaza Kid- $2
*Poptarts Chansey (scuffed)- $2
*Poptarts Charmander(x2)- $3 each
*V-Chip Pikachu, Pichu- $3 each
*Pikachu roller(paint loss on ears),
Squirtle roller(writing on bottom)
- $2 each
*Pikachu keychain- $1
*Arceus pull-back toy- $2
*Custom Oshawott by Jensoxen- $8
*Charizard Eraser- $2
*Alakazam- $1
*Sceptile suction cup- $8
*Taillow suction cup- $3
*Metal Zorua,
Metal Sandshrew
- $3 each
*Machop, Machoke, Machamp set $3
*Chimchar, Beautifly- $1 each
*Electronic Pikachu (needs new battery; I can't get the battery door open)- $3
*Charmander electronic figure (needs new battery)- $3
*Ichiban Kuji Mega Lucario, Yveltal- $10 each
*Elekid cake topper, Weavile Jakks, Palkia Jakks- $3 each
*Tail-less Pikachu Jakks,
Bonsly Jakks
- $.50 each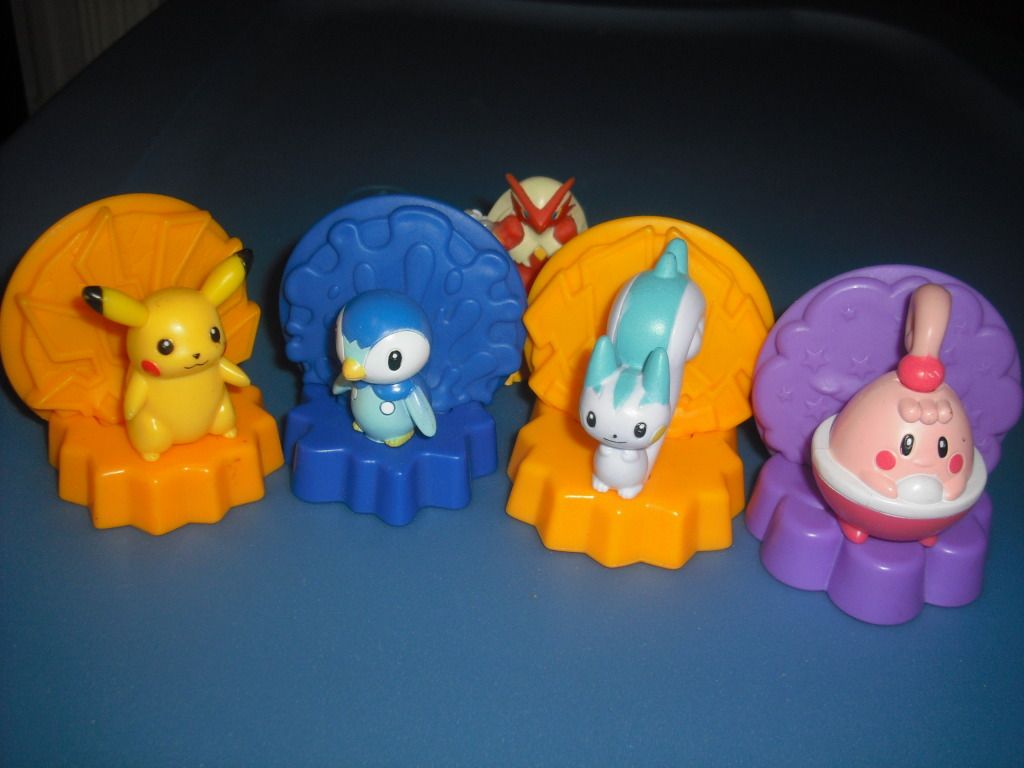 Card display thingies
Pikachu,
Piplup, Pachirisu, Happiny- $1 each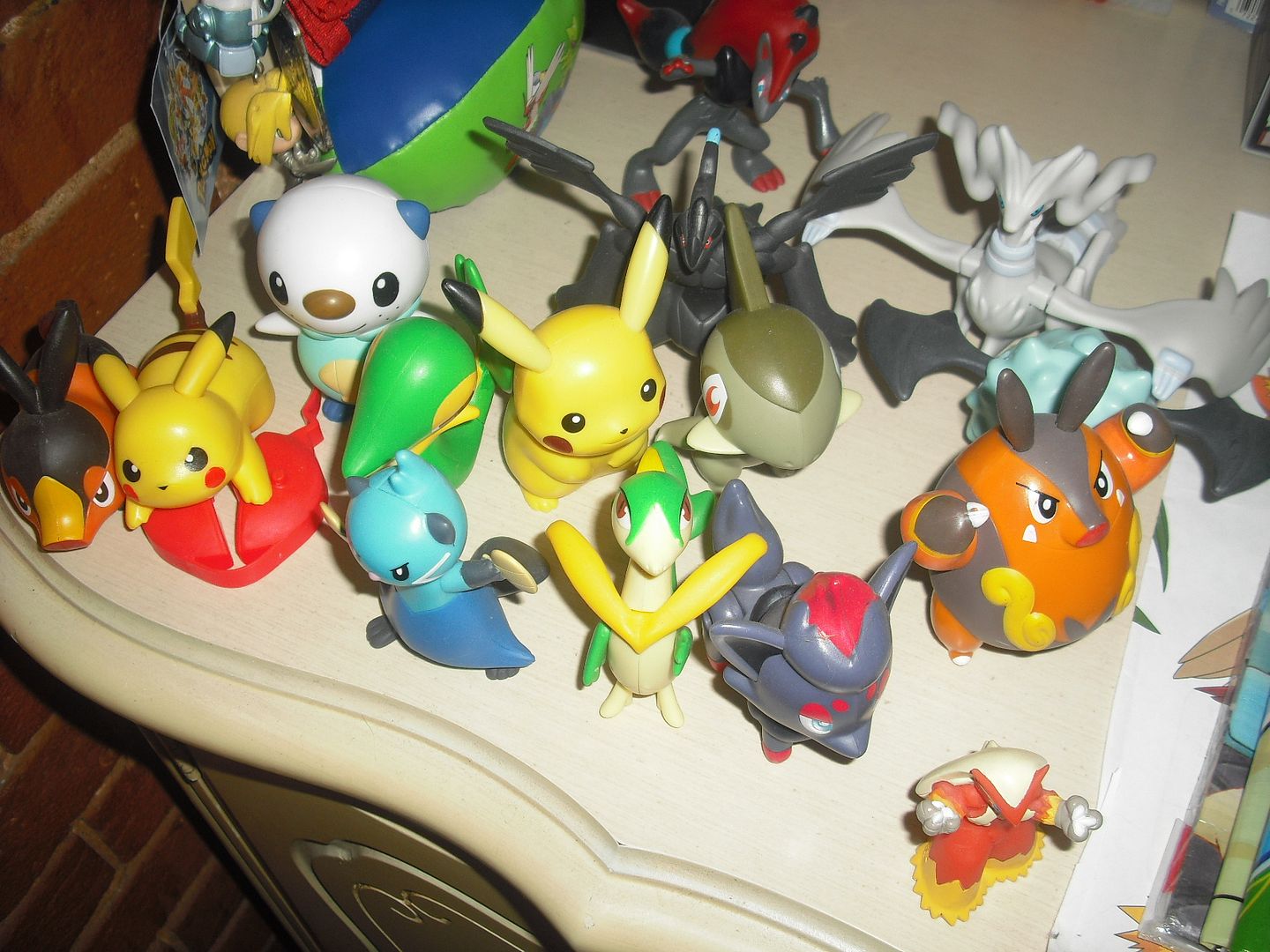 *Complete set of McDonald's 2011(8) and 2012(6) toys- $20
*McDonalds toys- $1 each, or one free with purchase
(Most have scratches/sun damage)
Burger King toys
*Gengar, tail-less Raichu, Charmander (don't light up anymore)- $2 each
*Ditto top, Golem top(top is scuffed)- $1 each
*Geodude keychain, Sandslash (missing some paint and keychain)- $1 each
*Lapras (x2)- $3 each
*Bulbasaur (x2)- $2 each
*Slowpoke- $3
(I only have one shooter left, so it'll be $1 if you'd like it.)
*Golduck, Mr.Mime BK cards- $1 each
*Mini coin pouch with Unova starters- $2
*Venusaur, Fennekin McD toys- $.50 each
*MIP Fennekin toy- $1
*Red Pokeball launcher toy part, rubber Pokeball- free
~NEW~
*Fighting-type cup with Lucario- $5
*Glittery cup with Deoxys- $5
*Dittochu cup buddy- $7
*Torchic Retsuden stamp- $5
*Pikachu necklace-$5
*Terrakion charm,Machamp charm- $3 each
*Mega Lucario pin- $5
*Mew dogtag- $3
*Paras dogtag- $1
*
Swampert,
Sceptile pins- $6 each (Backing free to whomever buys a pin and wants it)
*Pikachu pin- $5
*Aegislash line charm set- $15
*Delphox, Goodra line charm sets- $10 each
*Eevee, Flareon, Jolteon With You badges- $5 each
*Metal pins- $5 each
-Electabuzz (x2), Ash/Pikachu, Kabutops, Golduck
*TCG League pins- $2 each, or all for $10
SOLD: Earth Badge
*Tiger Electronic Pokeball game(no idea if it works)- $1
*Half of a Tiger Electronic Pokedex(works)- $5
*Jakks Electronic Pokeball game (
video on how it works
)- $20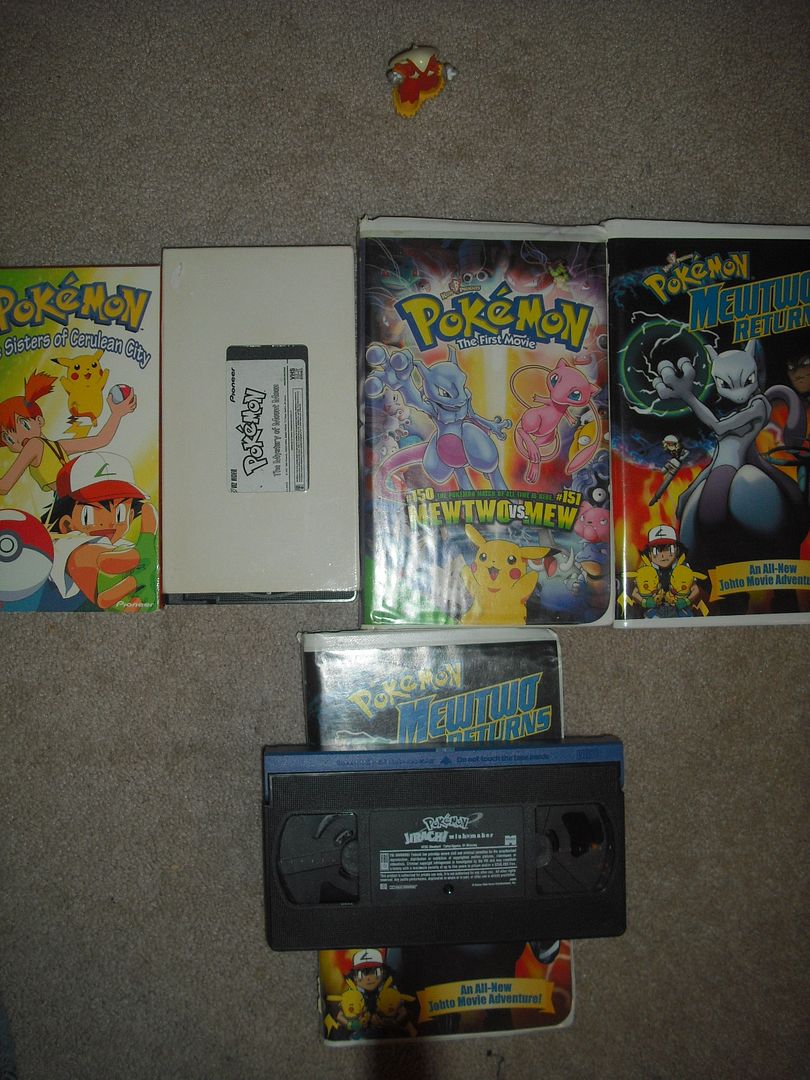 VHS tapes
*Sisters of Cerulean City, Mystery of Mt Moon,
Jirachi Wishmaker in wrong case
- $1 each
*
First Movie,
Mewtwo Returns- $2 each
*Child's Psyduck costume- $5
(Everything is included and doesn't look like it's ever been worn, but the face has multiple cracks. Says it's size 7-10)
*Small window screen- $5
*Big window screen- $10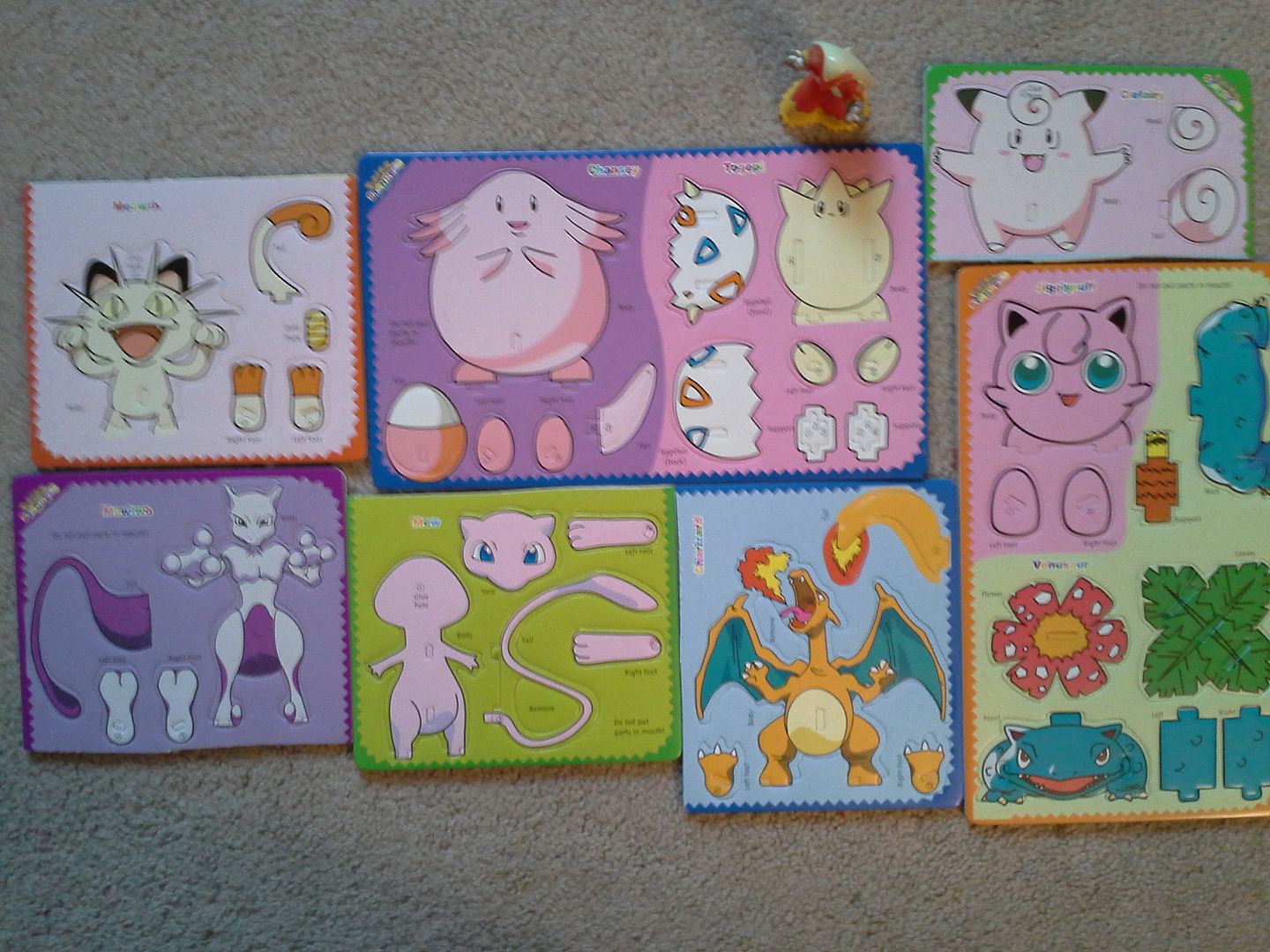 Unpunched Pokemon Foam Standees (Will be cut apart if part of a card is bought)
*Meowth, Chansey, Togepi,
Clefairy,
Jigglypuff- $2 each
*
Mewtwo,
Mew, Charizard,
Venusaur
- $5 each
~NEW~
*Sealed Ultra Foil Mega Lucario puzzle- $6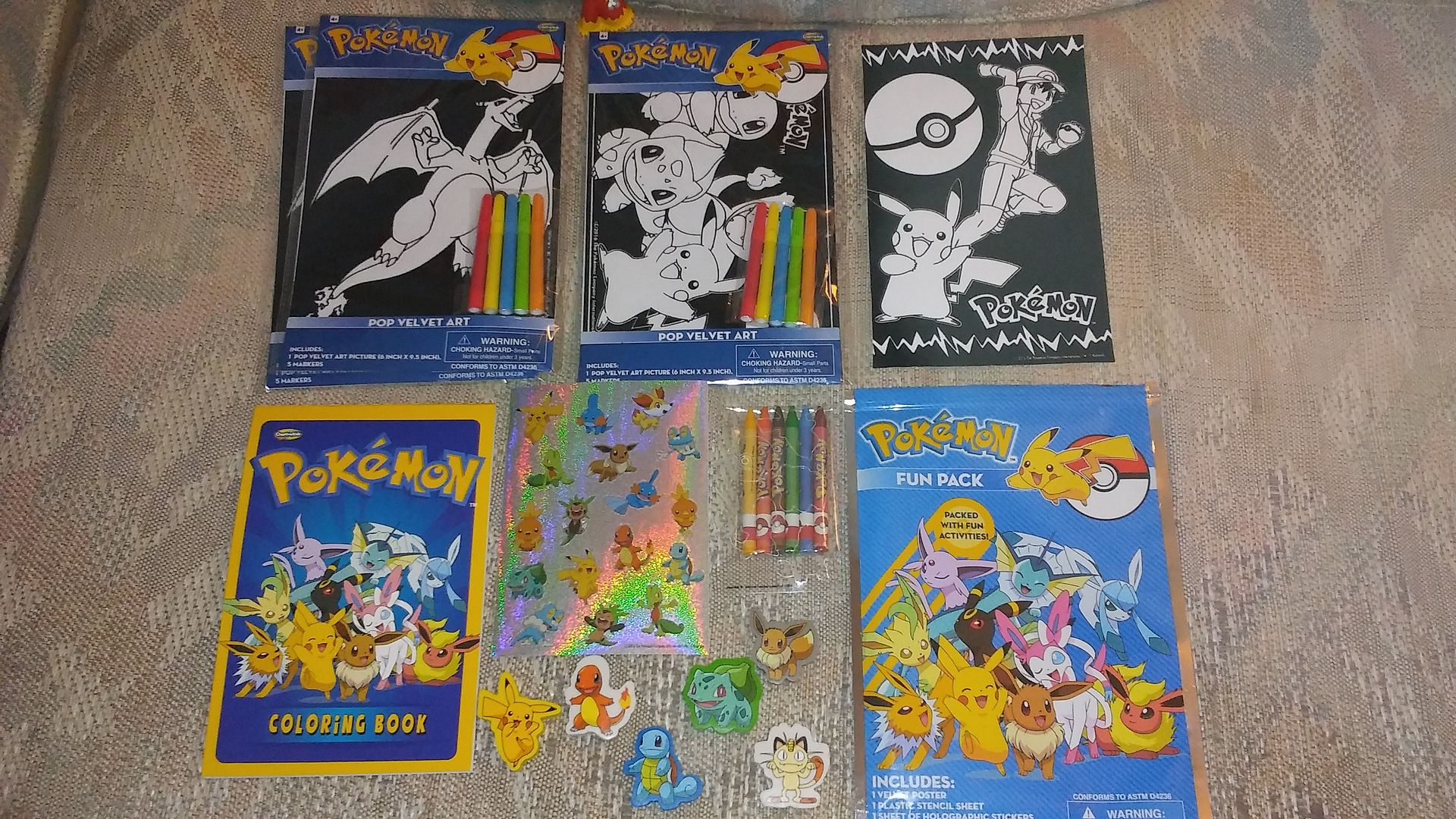 ~NEW~
*Charizard velvet art kit (x2)- $2 each
*Pikachu, Charmander, Squirtle, Bulbasaur velvet art kit- $2
*Ash and Pikachu velvet art page- $.50 or free with purchase
*Mini coloring book- $2*Glittery starters sticker sheet- $1
*Crayons+mini stencil thing, Fun Pack empty package- $.50 each or free with purchase
*Erasers -$1 each
(Pikachu, Charmander, Squirtle, Bulbasaur, Eevee, Meowth)
~NEW~
*Eraser with Pikachu, Chespin, Froakie, and Fenniken (x2)- $1 each
*Mini notepad- $.50
*Ruler with Shaymin/Pikachu (Has a bend in the middle)- $1
*Pencil with Mew, Charmander, Pikachu, Squirtle- $2
*Pencil with Sinnoh starters, Pikachu, Skymin, Giratina, and Regigigas- $2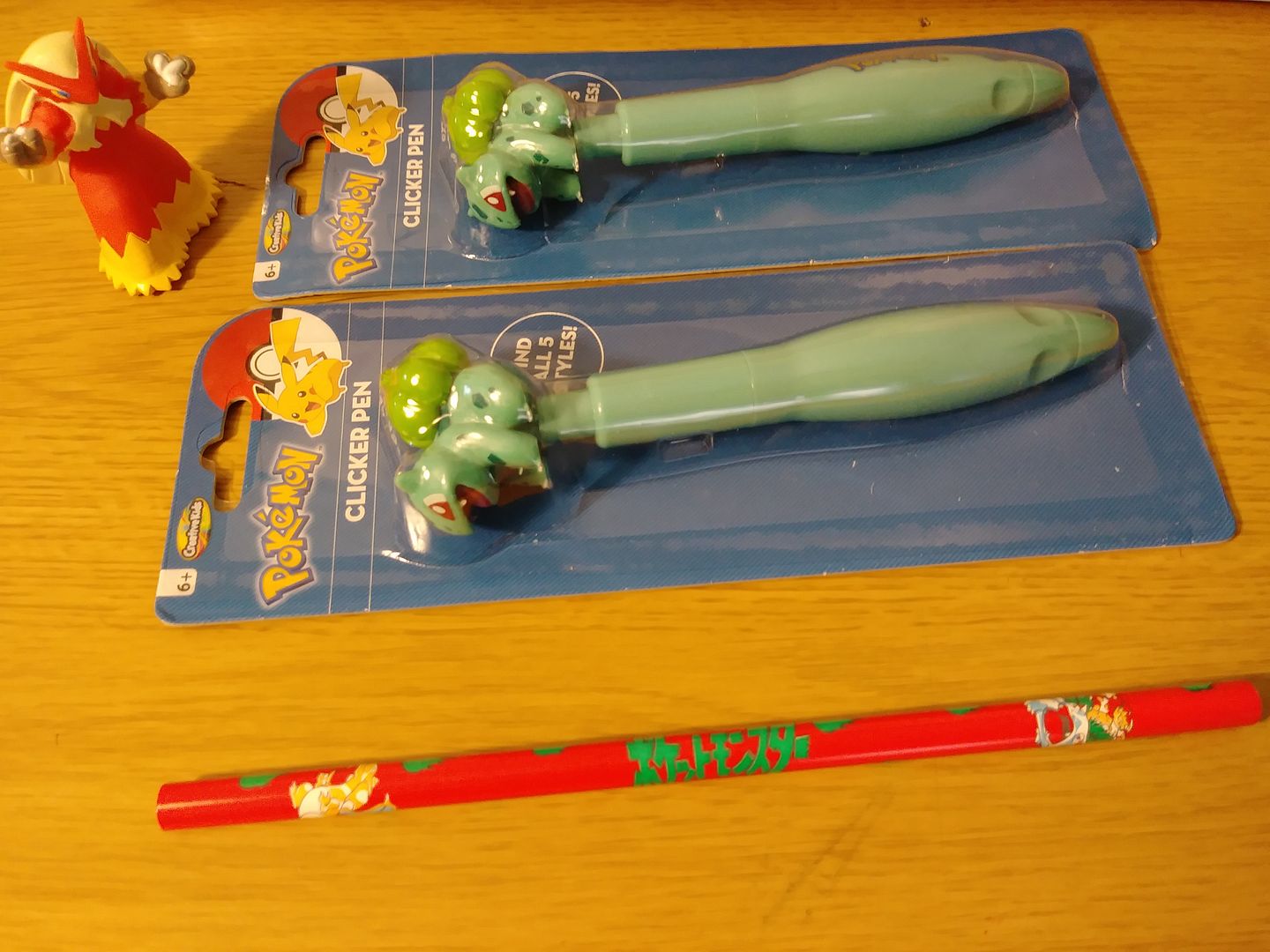 ~NEW~
*Bulbasaur pen(x2)- $2 each
*Venusaur/Charizard pencil- $1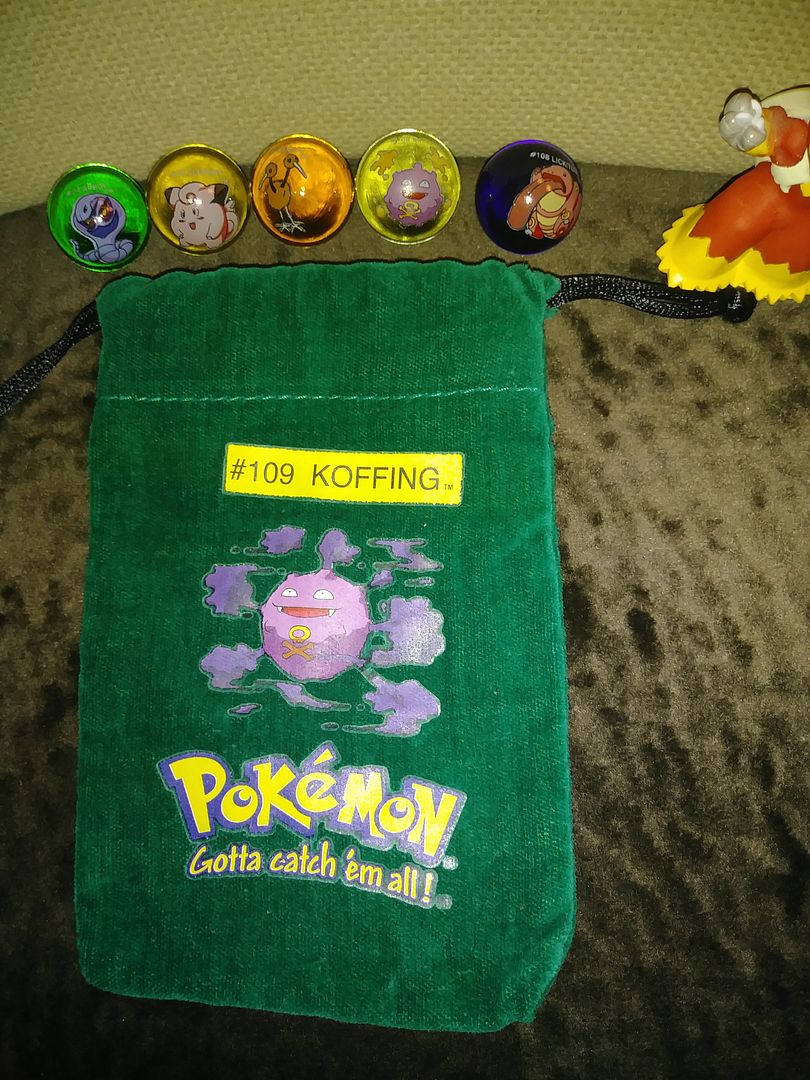 *Marbles- $1 each
Arbok, Clefairy,
Doduo, Koffing, Lickitung,
*Koffing marble bag (printed off-center)- $3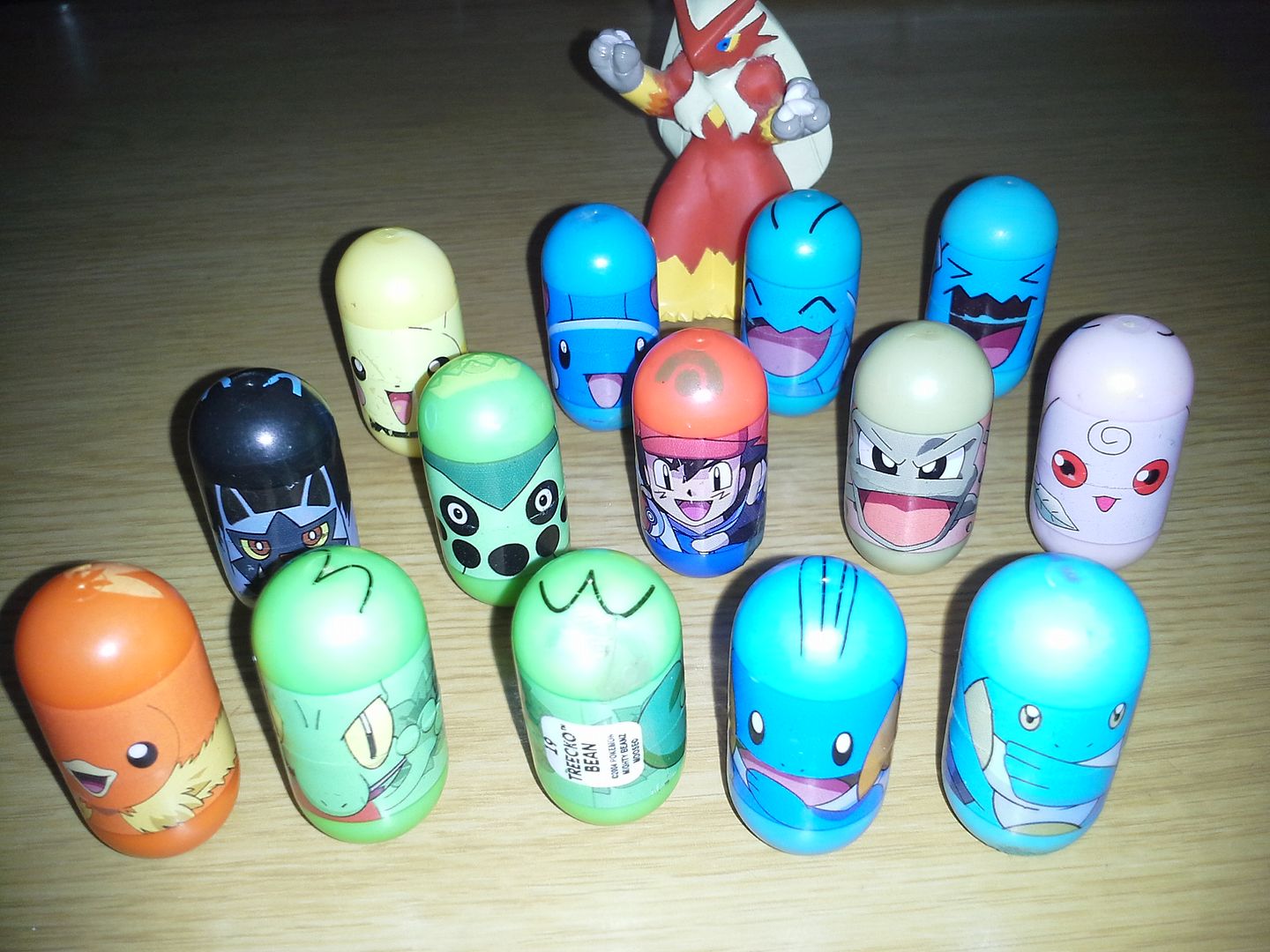 Mighty Beanz
*Torchic (Nothing wrong to note)- $3
*Treecko (Nothing wrong to note)- $3
*Treecko 2 (Discoloration spot on back-top, but paint is great)- $0.50
*Mudkip (Small scratches on face)- $3
*Marshtomp (Discoloration spot on bottom)- $0.50
*Poochyena (Small scratches on face)- $3
*Cacnea (Small spots of light discoloration on the bean parts)- $1
*Ash (Has a weird spot of glue or discoloration or something on the bottom-side area)- $2
*Geodude (Nothing wrong to note)- $1
*Igglybuff (Has a few marks) -$1
*Pichu (Scratches on face)- $2
*Azurill (Odd discoloration spot on bottom, seen in the picture)- $0.50
*Wynaut (Couple scratches in paint)- $1
*Wobbuffet (Missing paint, most notably in his mouth)- $1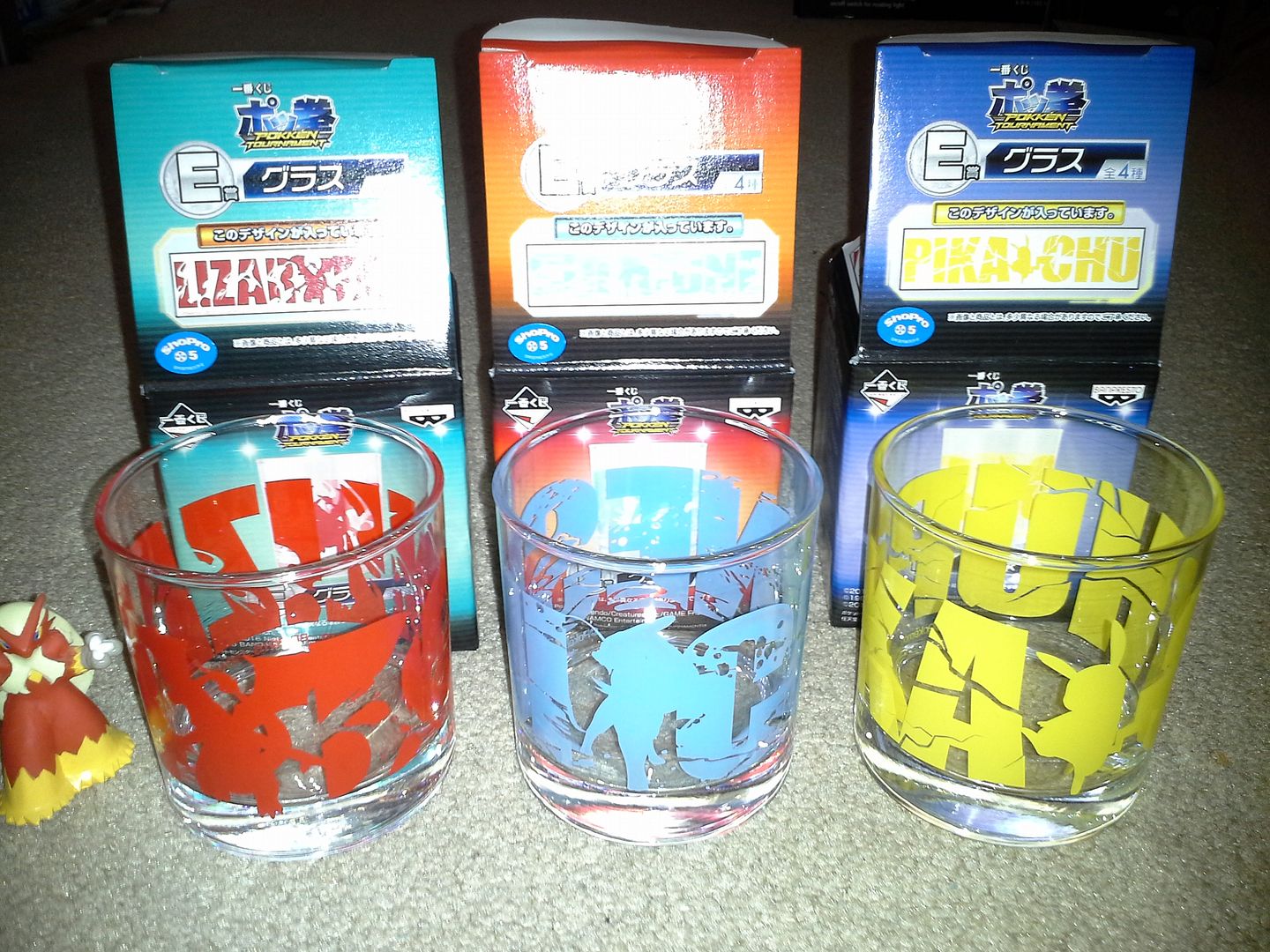 *Pokken Tournament glasses- $7 each
Charizard, Suicune, Pikachu
*Custom travel mugs- $5 each
(Have multiples)
Thanks for looking! If you want, check out my t-shirt designs on
Red Bubble!
And be sure to check out my
Pokemon Flats Sales
and
Non-Pokemon Sales
too!